2016 IBC show was held on Sep 9-13 in Amsterdam RAI international exhibition center.EIMAGE attended the show with innovative products under the expectation of overseas users. With the help of this world's largest radio and television event, EIMAGE interpret its company philosophy "The magic life in the magic world."
EIMAGE displayed video tripods and fluid head, professional video bags, all kinds of intelligent electric sliders, magic intelligent new products, multi-function jib arms and innovative celephone cage and so on.
All the new products attracted a lot of attentions in the IBC show.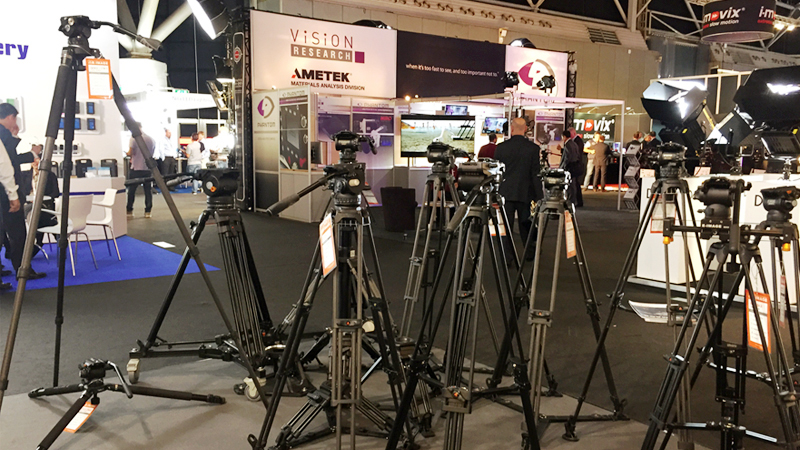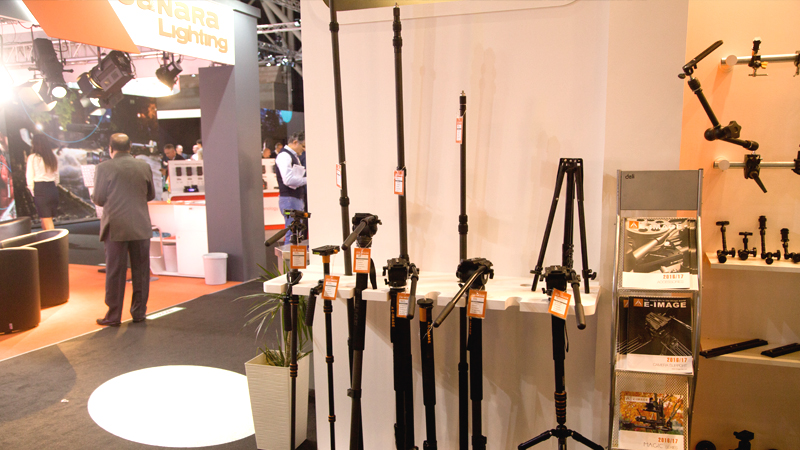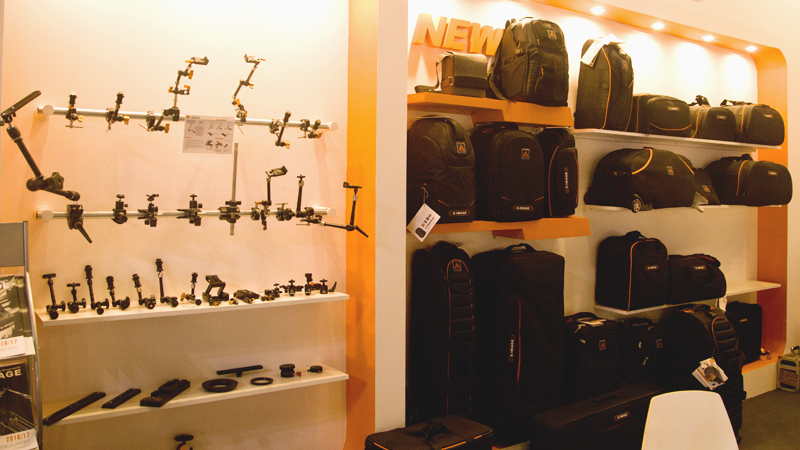 Hunters J100 is newly-developed carbon fiber jib arm, it applied EIMAGE Genting video heads damping systme,0-3 grades adjustable, enables you to adjust the tightness for up and down tilt and pan action. Special new design can reach AF shooting, Low angle shooting, high angle shooting and upside down shooting and so on.

It attracted local news reporter to interview, recording and was deeply loved by everyone.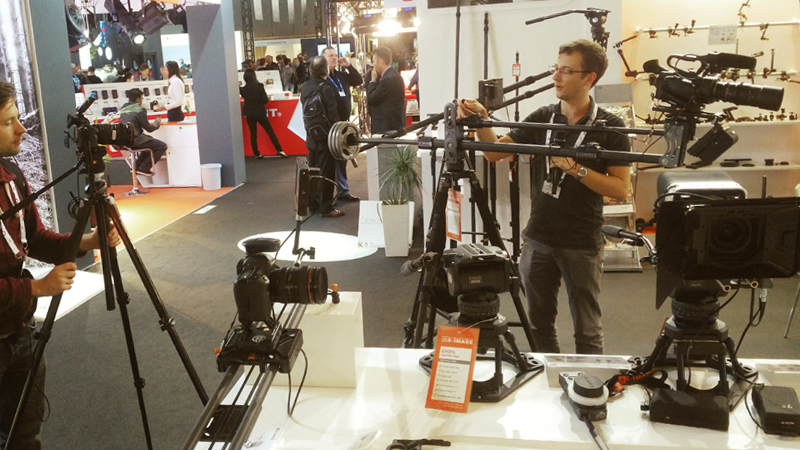 Customer experience product.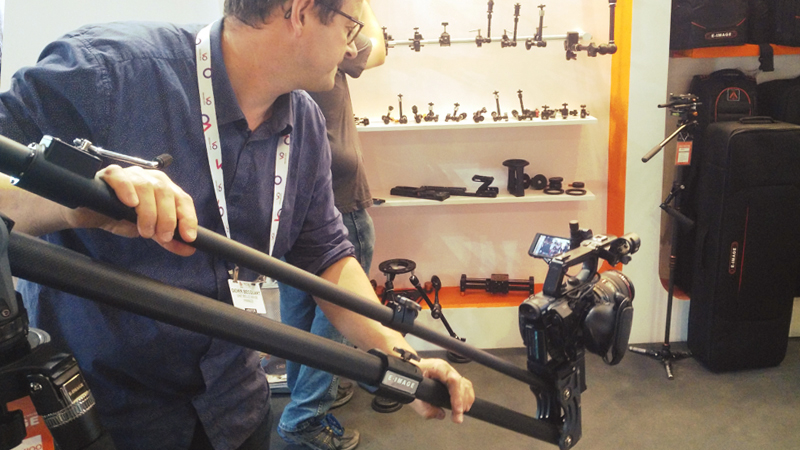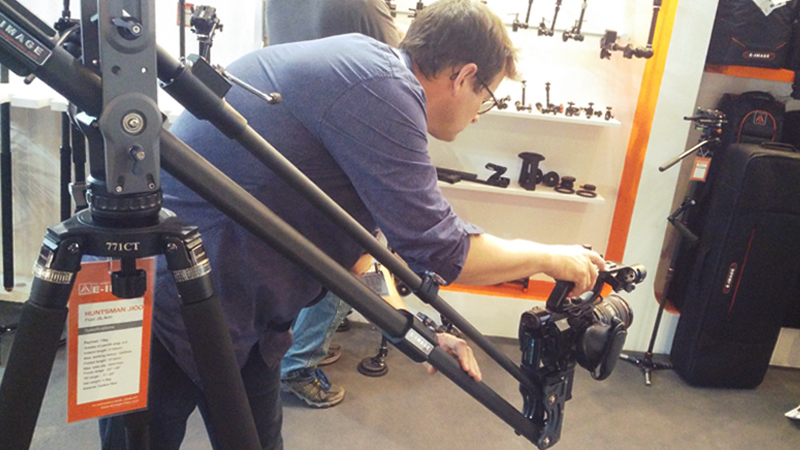 FOCUS DRIVE and FOLO FOCUS is the first time displayed in the IBC ,they designed with automatic stroke detection system ,a manual set up stroke point A- B its first appearance was warmly welcomed by visitors.

FOCUS DRIVE is controlled by wire, just need a handle, a motor, a cable, a piece of LP - E6 general battery, plus universal clamp can make your equipment rival the effect of the movie camera.It can combine professional tripods, stabilizer and so on, also can be installed on the handle, combined into a simple and easy Follow focus, which allows you to take video anywhere.
FOCUS SOLO is wireless, allows you to get free of the cables, a automatic stroke detection system, using 2.4 GHz frequency, wireless transmission distance up to 200 meters.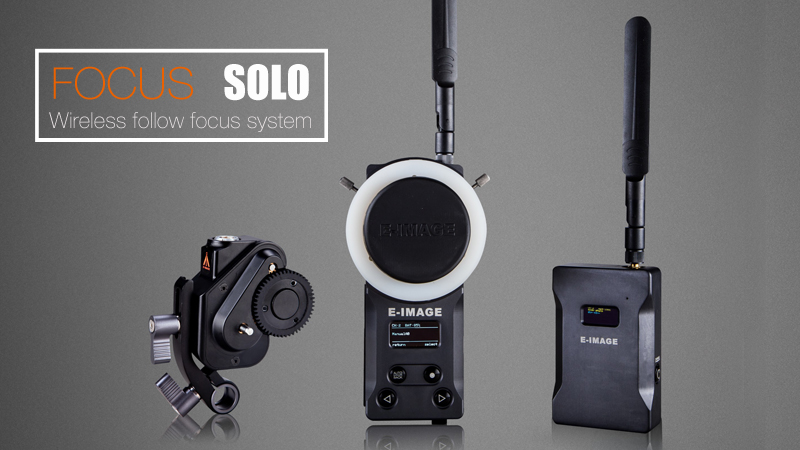 Customer experience product.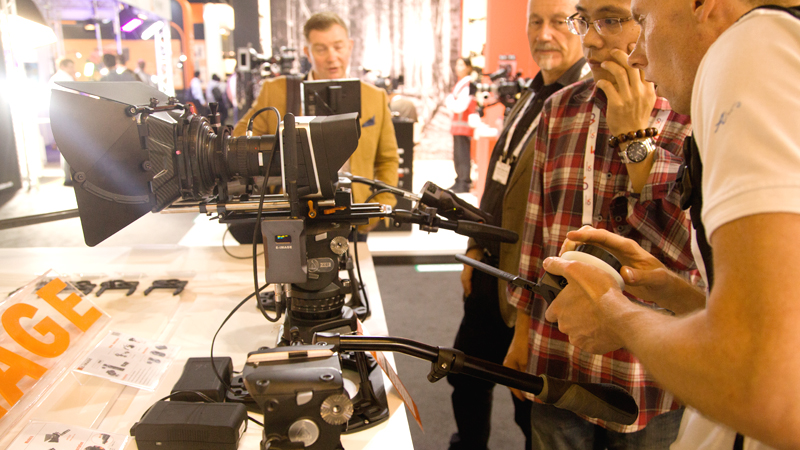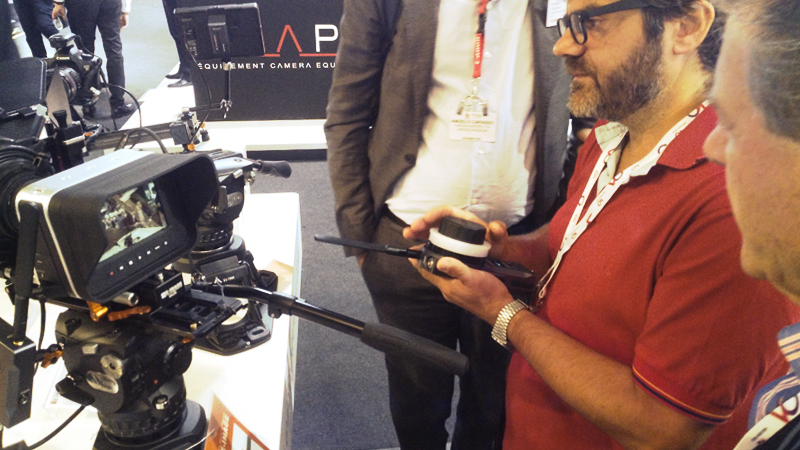 MOTOR, PTZ reappearance in the IBC show, customers praised the APP control and fine adjustment brings excellent experience to photography.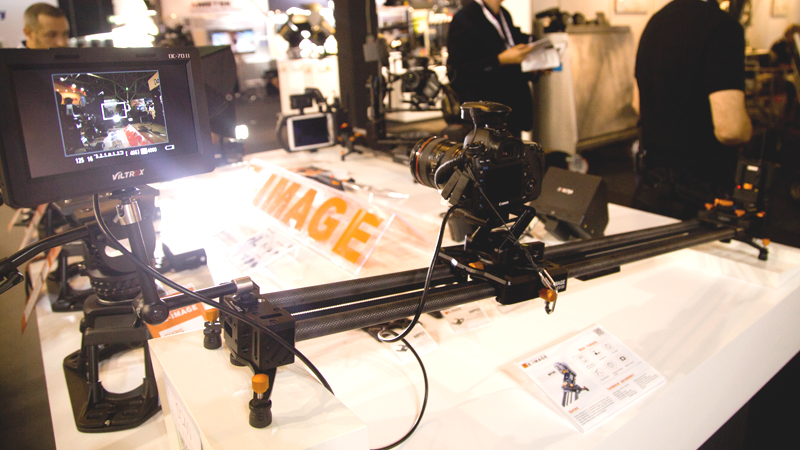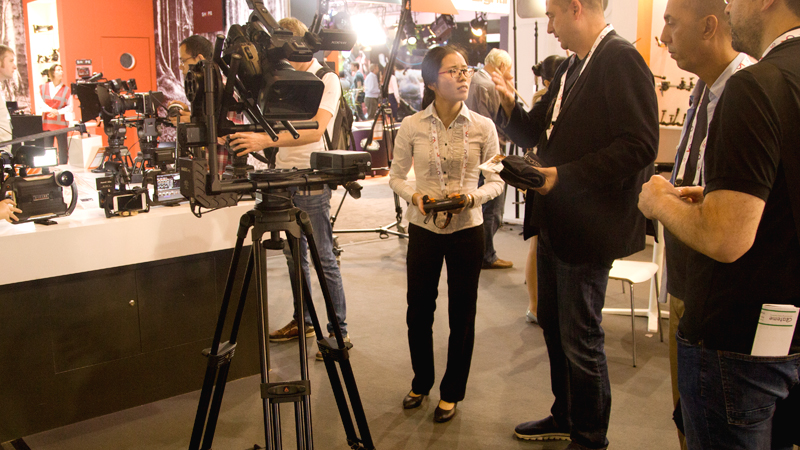 In addition, we also carried the latest research and development of PHONE CAGE, can fit all mobile phones, with all kinds of accessories, can turn your PHONE into a small camera for easy to carry.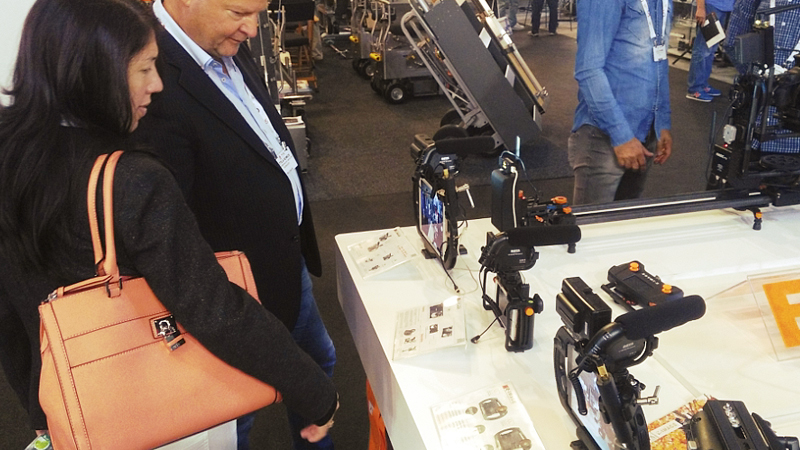 EIMAGE customized a aircraft bag,special suitable for PANANTOM 3/4. The E-Image video backpack is spacious and designed to carry many accessories. This new bag provides a convenient way to transport your equipment, whether you're trekking or just going for a walk shooting video in the park. It is extremely light, but super durable with 600D and 420D Nylon water resistant material.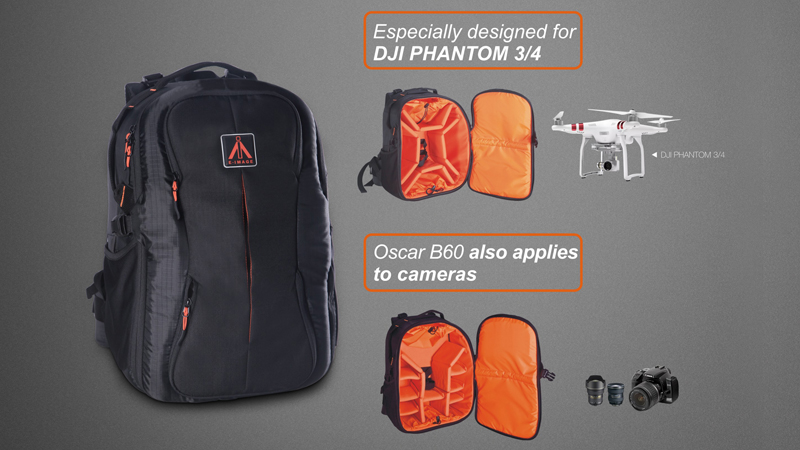 E-image also launched two LED LIGHT trolley bags - L60 / L70. The Oscar L60/L70 is a good choice for carrying LED lights and accessories. It is constructed of rugged, water-proof resistance 1680D material with removable internal padded divers that help secure contents. Built-in swivel wheels and an adjustable trolley handle makes traveling easy. Dual carrying straps with grip, making it easy to carry Durable built-in swivel wheels and an adjustable trolley handle, making it perfect for on-the-go leds photography.Package body around each collision block, can very good protection to the equipment.Bag with waterproof wear-resisting 1680 d materials, with a rod and universal wheel, travel more convenient.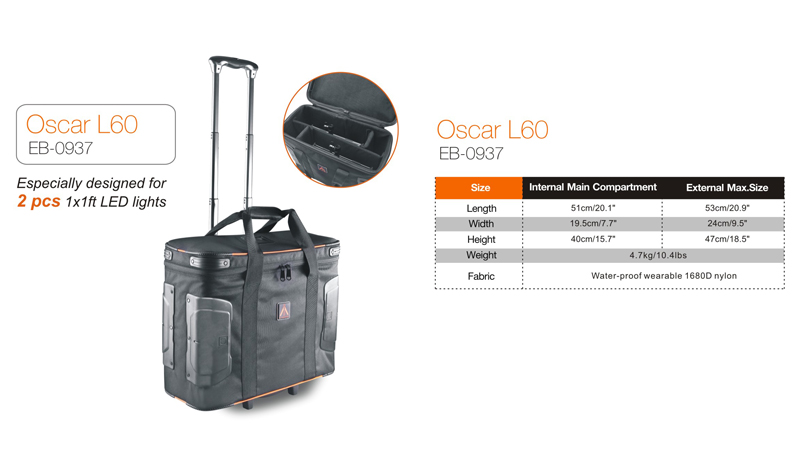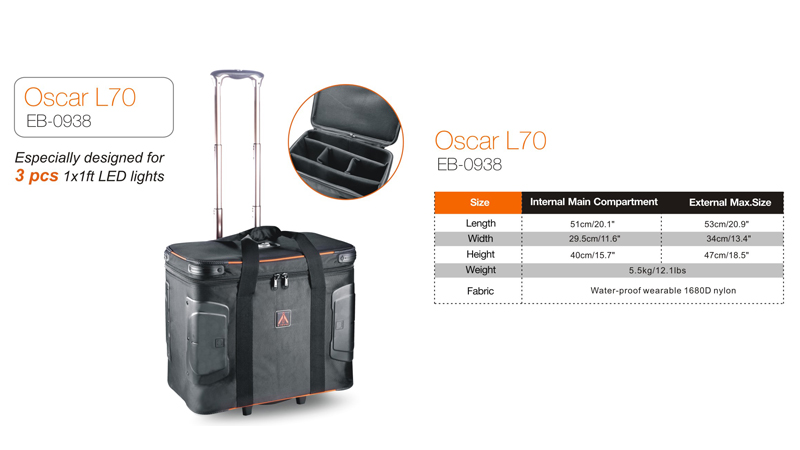 The new multi-functional articulating arms first shows in the IBC,were attracted a large number of customers because of innovative appearance and advanced multifunctional design.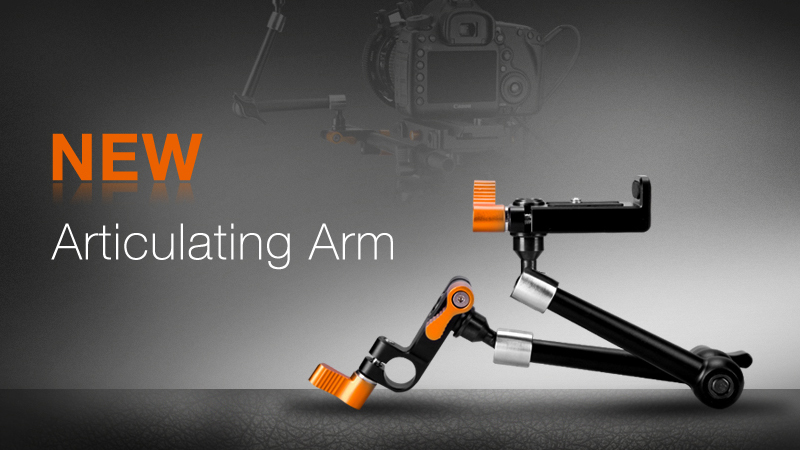 We believe EIMAGE will bring more and more perfect products to users in the future.
Prev:
2016 NAB SHOW